Additional Benefits for Student Veterinarians
Students enrolled in an accredited school or college of veterinary medicine can join the OAEP as Student Members. In addition to the member benefits, Canadian student veterinarians are also eligible to apply for the Annual Student Travel Scholarship for attending the AAEP Conference.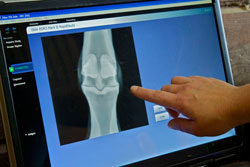 Through the Annual Student Travel Scholarship, the OAEP offers Canadian students the opportunity to receive $500 (Canadian) towards their attendance at the AAEP Annual Convention. To qualify, students must be enrolled in a Canadian college of veterinary medicine, and must attend the Annual AAEP Conference in the year that they are applying. Students must submit a copy of their CV/resume along with an essay no more than 1,000 words describing why attending the AAEP Annual Convention is important to them.
Applications for the Annual Student Travel Scholarship may be submitted between September 15th and October 15th of each year.  Applications are reviewed and the winner is selected by the OAEP Executive Board.  The scholarship is traditionally distributed to the winner at the AAEP Annual Convention, by a member of the OAEP Executive Board. Interested applicants can forward their CV/resume and essay to equinepractitioners@gmail.com.
---
Are you a student enrolled at the Ontario Veterinary College (OVC) and interested in equine veterinary medicine? The OAEP encourages OVC students to join the OVC Equine Club for access to additional educational resources focusing on equine veterinary medicine.  To learn more, visit the OVC Equine Club Facebook Page.